Gyros - Greek Souvlaki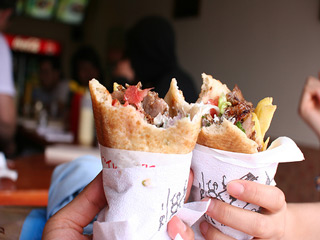 Souvlaki is a well known treat in Greece. Greeks eat souvlakia all the time either hastily on the streets while they move on to reach their destination or sitting at the table of a souvlatzidiko, the restaurant which sells souvlakia. Souvlaki is rather cheap, you can by a souvlaki with pita bread for about two euros and a souvlaki on a skewer without the pita accompanied with some bread for about a euro and a half.
The souvlaki is usually made from pork pieces of meat and gyros but you can also find one with chicken or a kebab. The pita bread souvlakia contain, apart from the meat, fresh tomatoes and onions, French fries which are optional and tzatziki. Tzatziki is a very special delicious Greek sauce with yoghurt, garlic, olive oil, cucumber and a bit of vinegar. The pita is oiled and then grilled before being used to wrap all the ingredients. If you do not like the onion you can ask them to prepare a souvlaki without it. Generally any ingredient can be omitted but the taste is not the same and believe me all the ingredients add up to a unique tasty result.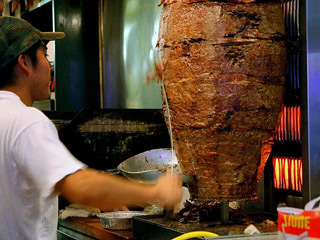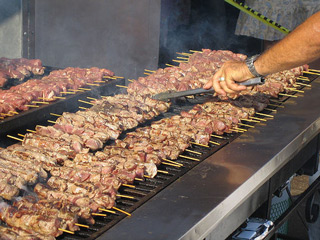 Now as far as gyros is concerned it is an upright spit stacked with thin slices of pork that rotates slowly in front of some electric bars. The heat melts the fat, which drips from the bottom end of the spit and the fat cone of meat becomes nicely brown and crunchy as it turns. When it is ready they slice it and put it inside the souvlaki. Simply delicious!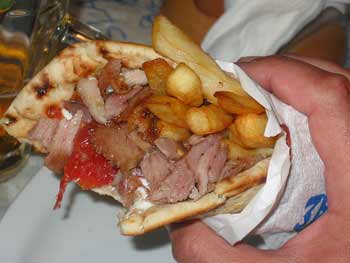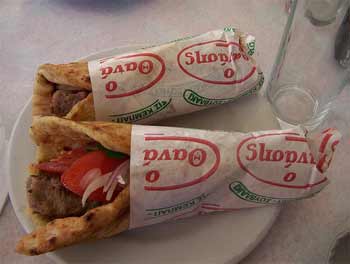 Some people like to omit the tzatziki and use ketchup or mustard instead. Don't do it! This ruins all the taste and it is definitely not how a Greek souvlaki tastes like. If you do not like souvlakia just order a hot dog.