Weather in Greece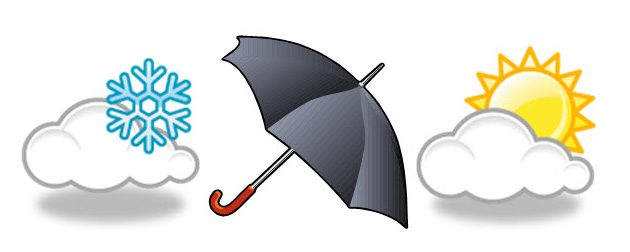 The climate in Greece is Mediterranean but the unique geography of the country causes remarkable range of micro-climates and local variations. To the west of Pindos, which is a mountain range, the climate is generally wetter with some maritime features. To the east of Pindos the climate is generally drier and windier during the summer.
The climate of Greece can be divided into three categories, the Dry Mediterranean, the Continental Mediterranean and the Alpine Mediterranean
Dry Mediterranean
The Aegean Islands and especially the Cyclades and the Dodecanese have this kind of climate which can also be noticed in southern and parts of central Evia, low lying areas of Attica, the eastern and south Peloponnese and the low lying areas of Crete. During the summer, the weather is almost always sunny, dry and any precipitation is rare and of short duration. The air is usually hot during the day and pleasantly warm during the night. Heat waves can occur, but they are usually quite mild at the coastal areas. The Etesian winds blow throughout the summer and the winters are usually wet and any falling snow does not last too long, especially in the south facing slopes. Rain in winter is often persistent and can cause floods.
Continental Mediterranean
The greatest part of Thessaly, Macedonia, Thrace, the interiors of Epirus, Central Greece and the Peloponnese which are characterized by Continental climate face a more notable difference between temperatures in summer and winter. Winters are cold and often harsh with locally abundant snowfalls. Summers are hot with frequent thunderstorms. There are no great differences in precipitation between summer and winter though most precipitation tends to fall in late autumn. From dawn till dusk the temperature can range to over 20°C, especially in interior plains and valleys. Frosts are common in winter and in some areas, in spring and autumn. Ptolemaida, in Western Macedonia has the lowest temperature on Greek territory with -27.8°C, although the temperature in this town has reached +40°C as well.
Alpine Mediterranean
In this climate, the winter is harsh with abundant snowfalls, while the summers are cool with frequent thunderstorms. This climate is found on high mountains, like Pindos and Rodopi.